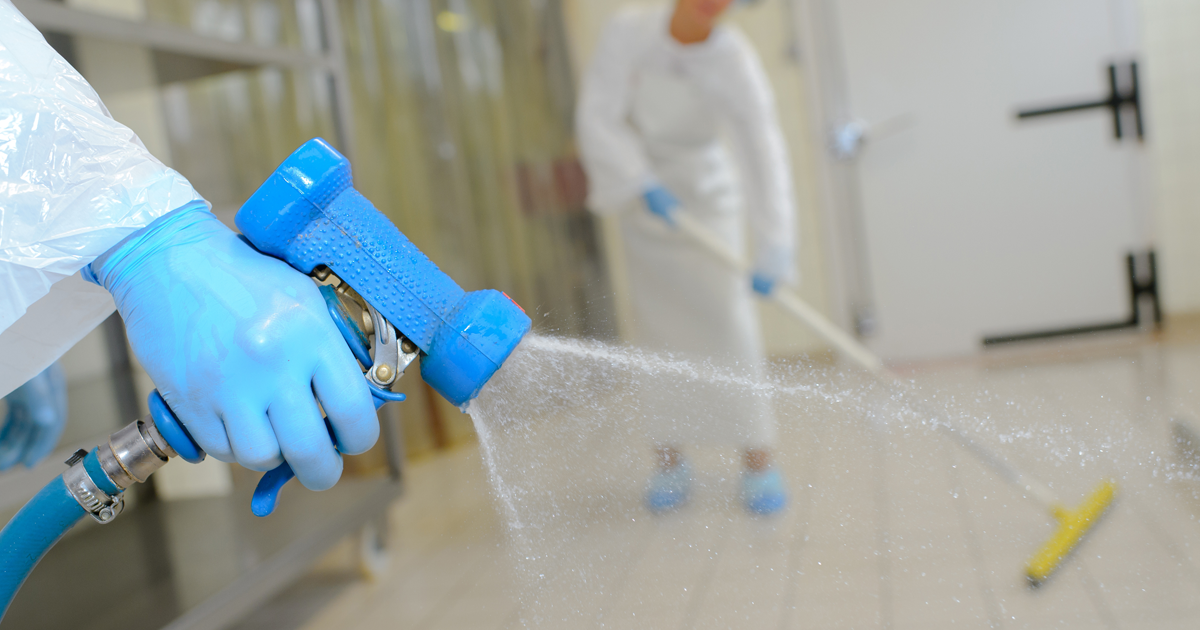 Imagine a high school building during the day; brimming with rambunctious, wild, and messy teenagers. Garbage bins packed with paper and half eaten sandwiches, floors covered in spilled milk, and bathrooms that give rise to new life forms from their cesspools of bacteria and germs. Without Janitors, high school buildings – as well as office buildings, hospitals, factories, and many other establishments – would be very difficult to keep running. Janitors, commercial cleaning companies, and other cleaning workers keep buildings clean and germ free. However, there are hazards these individuals face every day.
Chemical exposure is one of the most prevalent dangers faced by cleaning employees. Many types of chemicals are used to clean surfaces such as sinks, toilets, floors, and windows. These chemicals can be very hazardous when contacted; either through direct physical contact with the substance, or through inhalation of the fumes. In order to keep employees from mixing chemicals, sniffing chemicals to identify them, or using the wrong chemicals, OSHA has compiled standards that must be followed by the cleaning industry. Yet, there are a few simple ways to help prevent harmful chemical exposure.
Label all chemical containers
Do not sniff chemicals to identify them
Always where proper protection (gloves, goggles, long sleeves, etc)
Only use appropriate amounts of each chemical.
Thoroughly rinse and clean buckets, rags, and brushes.
Employees in the cleaning industry may also encounter musculoskeletal injuries while on the job. These injuries are most often to the back and shoulder areas. These injuries can be prevented with effective training, emphasis on proper form, and personal maintenance of physical fitness. Often, these injuries are the result of lifting too much weight, repetitive motion, improper lifting technique, and twisting or bending while lifting. Employers can also significantly reduce the number of back and shoulder injuries to their employees by encouraging physical fitness for their employees. It is also important to employ only individuals who are capable to carrying out the duties of the job effectively and without unnecessary risk.
Other hazards janitors and commercial cleaners face stem from slips, trips, and falls. When mopping floors it is crucial to use the appropriate signage to warn of slippery surfaces. Employers should also stress the importance of appropriate footwear with sufficient tread and grip to prevent falls. When using climbing equipment (ladders, lifts, step-stools) employees should make sure the area is clear of all potential tripping hazards. If possible, never climb a ladder without someone stabilizing it from the bottom. Additionally, all electronic lifts (window-washing lifts) should be well maintained. Proper equipment should be provided. Employees should never be reaching out and leaning away from the ladder or lift. Instead, provide tools with extension handles for hard to reach places.
Janitors and commercial cleaners provide a valuable service. Without their services, work environments would be far less pleasant. Even though janitorial work may seem mundane, it is rife with hazards just as many other occupations are. It is crucial that the employees of the cleaning industry do not let their guard down. It is even more important that employers take every measure possible to protect their workers. Clean buildings should be the second priority. Safety should be the first.