The proofing option you select with your order lets us know what kind of assistance to provide you with regard to your design. With each selection we will be adding a visual representation of your selected mounting option so that you may better visualize the completed sign.
Check for issues with my design
Select this option if you are happy with your general design and layout. We will review your design to ensure that it can be printed correctly with your chosen mounting option. For example, when ordering a design with an exterior enclosure, the overlap of the frame may obscure some of your design. We may make minor adjustments to your submitted design to account for such situations.
We will also ensure that key elements are symmetrical and labels are evenly spaced. Once we have made these changes you will receive a proof which you must approve before your order is printed and assembled.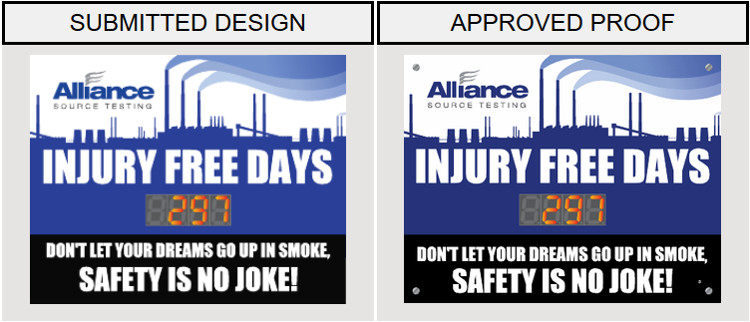 Example of a submitted design for standoff mounting and IR remote control. The coloring has been adjusted to reflect the differences between colorspaces; RGB (computer monitor) and CMYK (print). The standoff heads have been added to each corner and a small remote sensor window has been placed in the lower right hand corner.
Show me a recommended design
Select this option if you would like us to use your submitted design and feedback as inspiration to create a completely different design. We will use the graphics and text you supply but may rearrange elements or add new design elements to spruce up your sign. You will receive a proof that may look nothing like your submitted design but retains all the key elements of it. If you are unhappy with the proof you receive you will have plenty of opportunities to request rework until it is right.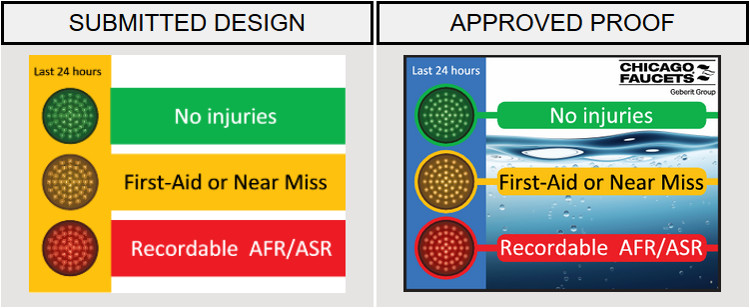 Example of a submitted design vs the end result. We added the basic frame visuals and remote sensor eye in addition to completely reworking the design.