You've already taken our unique online designer for a spin and you know it will help you get the best personalized safety scoreboard available, but you still want to know how exactly this whole order process works. You may be asking yourself; How can I know for sure the sign I am ordering is going to look the way I want to?
We share your concerns. We want every customer to be happy and secure with their order as well as the final signage. That is why we developed our proofing process and apply it to every order. The process is straightforward, easy, and aimed at addressing exactly those questions. Quite simply, after you have designed your sign and placed your order, we send you back a final proof to approve before we print your sign. The proof you approve will show you how your sign will look when mounted.
After our designers take a look at your design and make their changes you will know there are no issues with low quality graphics or critical design elements being blocked by mounting options.
Our proofing process is how we make sure you get the sign you want, every time!
The following is an overview of the proofing process and what you can expect after placing your order.
Before adding your chosen sign to your cart you must choose a proofing option.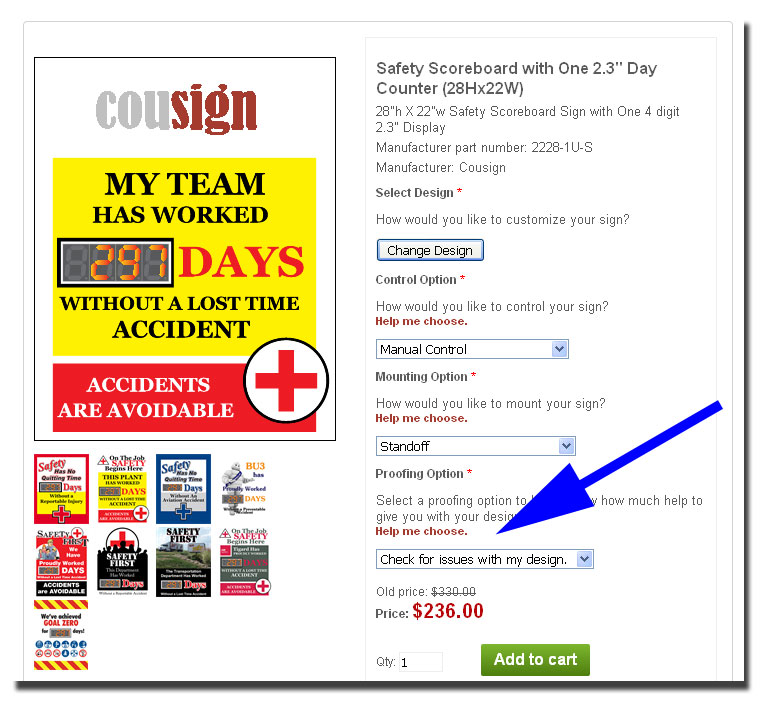 The options are as follows:
No Proof Required. Print as is.
This one is fairly straight forward. The proofing process is bypassed and your sign will be printed as is. If our designers happen to catch an issue we will work with you to resolve it but they won't be looking as closely for issues so you run a risk with this option. If you are sure you know what you are doing and want to speed up the process a little bit then feel free to use this option.
Check for issues with my design.
The 'Check for issues with my design' option is selected by default and is the recommended option to use if you like what you see in the designer. When selecting this option your design will first be sent to our designers who will take a look at your design and your chosen method of mounting to make sure everything will look great when your sign is finished. We don't want the overhang of a frame blocking important text or a standoff in the middle of your logo. While we offer guides in our online designer to help you prevent this, it never hurts to have a second pair of eyes look it over. Our graphic design team will make any necessary changes to your design and create a proof image for you that shows exactly what your sign will look like when it's when finished. The proof will contain visuals for your chosen frame or standoffs to give you a complete picture of your completed sign.
Show me a recommended design.
We know not everyone is an artist. If you are having trouble achieving a great look with our online design tools then feel free to choose this option. We'll show you an original concept of what we think your sign should look like. If you're not happy with what we come up with, you'll have the opportunity to provide feedback so we can get it right before you approve the proof. There is never any extra charge for design work!
Do your best in the design tools to add the key elements you would like on your sign, and then we'll provide you with a completely redesigned custom safety scoreboard. You'll have the opportunity to communicate your needs and ideas directly with the design team using proofing feedback.
Order your sign
Once you have selected your design, control option, mounting option, and proofing option you'll be able to add your product to your cart and complete the checkout process as you would at any other online store. After your order has been submitted, you will see the following message on your screen. If you have immediate comments for our design team visit the order details page to submit that feedback. If you don't have anything to say at this point, there is nothing more to do. You'll receive an email when your proof is ready for review.

Provide feedback - Optional
Scroll to the bottom of the order details page. Enter any feedback you have for the designer, add an optional attachment (any file type) and click 'Send Response'.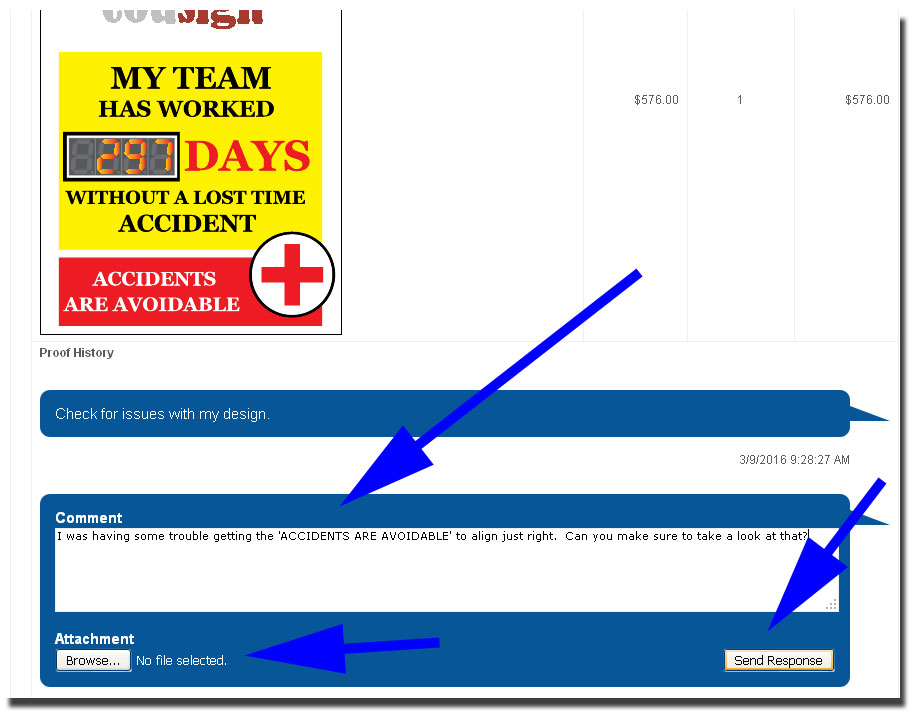 When your feedback is received

Our designers will do their magic. When they have finished your proof you'll receive an email with a .pdf copy of your proof attached and a link back to this page. Click the link in the email which will take you back to your order details page and scroll to the proofing history section at the bottom. You will now see your proof and an option to approve.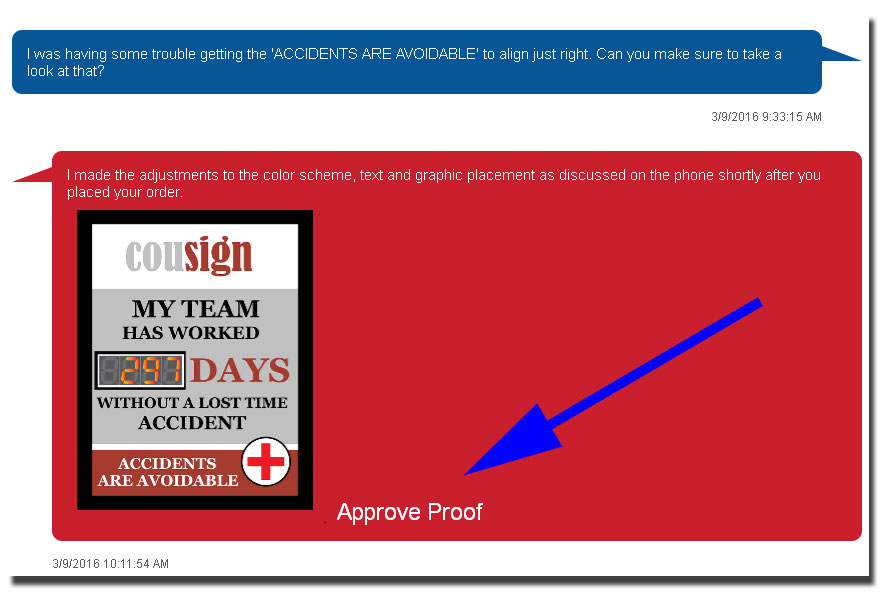 If you like what you see click 'Approve Proof' and the process is done. We'll start building your custom safety scoreboard. If you are not happy with the proof simply tell us what you would like us to change by submitting more proofing feedback and we'll correct the issues. When the corrections have been made you'll get a new email and an opportunity to approve the new proof.