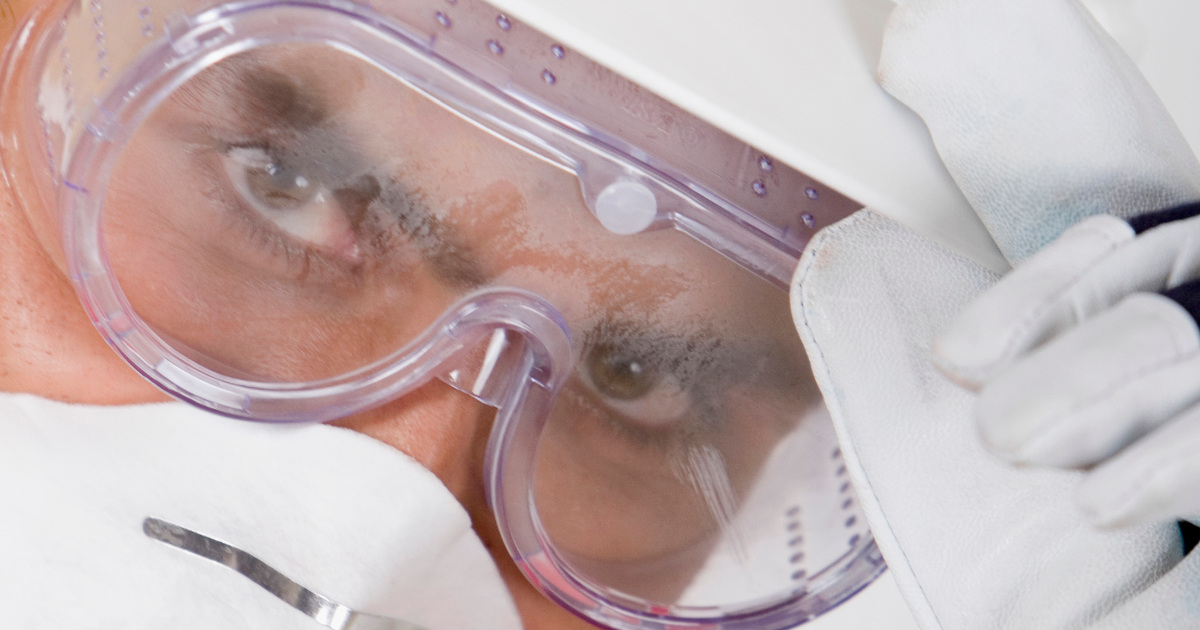 It only takes a split second for disaster to strike. Damage to your eyes can be the result of a single sliver of wood, a spark, or a lone drop of a chemical. Eye protection is absolutely essential to numerous occupations. Don't neglect your vision. Instead, protect it.
Eye Injuries across Occupations
Eye injuries can occur in a number of different occupations. These injuries are usually the result of a scrape, scratch, puncture, or burn. Burns can be either chemical or thermal in nature. Statistics show that, every year, over 300,000 individuals head to the Emergency Room with an eye injury.
Jobs in the construction, mining, and manufacturing industries have the highest number of eye-related injuries. Additionally, nearly 1500 eye injuries occur every year in the leisure and hospitality industry, as well as nearly 2000 injuries in the education and healthcare sectors. These injuries are usually the result of a scrape, scratch, puncture, or burn. Burns can be either chemical or thermal in nature.
Not only do 300,000 eye injuries occur every year, but over 25,000 of those injuries result in employees having to take time off of work. Millions of dollars are shelled out for workers compensation, and production numbers take a drastic hit. Consequently, businesses lose a combined 300 million dollars annually due to eye injuries.
How do eye injuries occur?
Eye injuries can happen quickly, and can cause serious damage. Most eye injuries when some sort of object makes contact with the eye and causes some sort of scratch, abrasion, penetration, or scrape. It doesn't take much to cause damage to an eye. For example, a small piece of plastic could cause blindness if it makes contact with an eye. Other common projectiles that cause damage include bits of wood, metal, dirt, or even larger objects (such as tools).
Chemical and Thermal burns can also be extremely harmful. Though, these injuries may be slightly rarer than an injury caused by a projectile. Regardless, when working in an area that presents the risk for a burn (chemical or thermal), precautions should be taken. Oftentimes, burns are caused by fumes or splashes of harmful chemicals. Wearing the proper Personal Protective Equipment (PPE) is crucial.
How can eye injuries be prevented?
Obviously, Personal Protective Equipment is a must! The type of PPE used should depend on the hazards the employee may face. For some, goggles or safety glasses may be sufficient. However, others may need full face respirators or face shields. Make sure your employees have the gear they need to stay safe.
PPE is important, but perhaps the most important safety precautions are the mindsets of the employees themselves. Over 90% of eye injuries could have been prevented with the proper Personal Protective Equipment. Oftentimes an employee removes their equipment, or thinks they will not need it for a short time. Every situation is different, and an excuse can always be contrived.
However, the bottom line is this: employees need to buy into the culture of safety. This means that employees need to wear proper protection at all times. No exceptions. It only takes a split second for an accident to happen. Don't be caught unprepared, or it could change your life forever. Every employer needs to stress the importance of always abiding by the rules and wearing proper eye protection.
Overall, change starts with the individual. Employers can make policies and implement new procedures, but employees need to buy into the culture of safety. When employees buy in, then real change can be seen. It is no different for eye injuries. Stress the importance of the rules, and employees need to follow them. PPE does no good if you aren't wearing it, and safety standards are useless if you don't meet them. So help yourself out.
Who are we?
Cousign offers a wide variety of safety scoreboard signs to help increase safety awareness in your company. Our signs are all fully customizable with your company logo and text. With the ability to add any number of numeric displays, traffic light indicators and scrolling message displays you're sure to get a sign that really gets attention. If you know the details of the sign you are looking for take our product finder and quote tool for a spin to help you locate right sign, or browse our catalog to see some of the great options available.